PG&E: Your Partner for Electric Car Ownership

Whether you already drive an electric vehicle (EV) or you're thinking of acquiring one, you can learn more about EVs and charging at the PG&E exhibit at the San Francisco Chronical 60th Annual International Auto Show November 18-26 at Moscone Center.

Save money and go green by driving an electric vehicle. Learn about how you can:
Charge your EV on PG&E's special EV rate plans for the equivalent of $1 per gallon on one of the nation's greenest power supplies, with nearly 70% coming from carbon-free sources
Apply for the $500 Clean Fuel Rebate for eligible PG&E customers
Receive up to $10,000 on EV purchases with Federal and State incentives
Benefit from PG&E's new Charging Infrastructure Initiative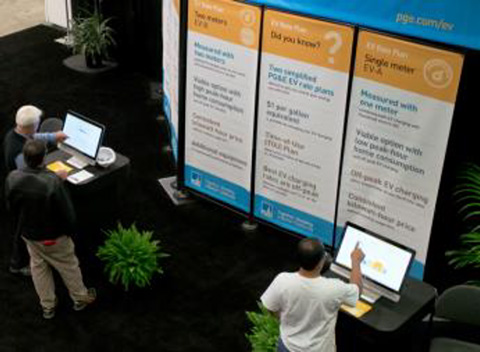 At PG&E's 4,200 square foot information and vehicle exhibit you will have the opportunity learn more about special utility EV charging rates, the EVs on the market, clean fuel and purchase rebates, charging stations and more. PG&E will be exhibiting examples of PG&E's electric and plug-in electric hybrid fleet cars and heavy-duty service trucks.
Representatives from PG&E and the Clean Vehicle Rebate Project will be on hand to answer your questions about EV ownership, including how to apply for the new California State Clean Fuel rebate as well as Federal and State rebates towards the purchase of an EV.
EV Charging Options
As a PG&E customer, you have several options for charging your EV at home. Three types of stations can charge your electric vehicle (EV): Level 1 and Level 2 are available to residences and businesses. Direct current (DC) fast charging is available at public sites because of the high cost and power that it requires. Both plans offer $1 per gallon equivalent charging.
The Clean Fuel Rebate
PG&E residential customers who own a plug-in electric vehicle are eligible to apply for the $500 Clean Fuel Rebate. The Clean Fuel Rebate is a one-time rebate available to PG&E residential customers who have adopted cleaner transportation methods by fueling their vehicles with electricity. The Clean Fuel Rebate comes from the State of California's Low Carbon Fuel Standard (LCFS) program. The goal of the Low Carbon Fuel Standard is to reduce transportation-related greenhouse gas emissions by encouraging the adoption of cleaner fuels, like electricity.
EV Charge Network
This new PG&E initiative supports the installation of up to 7,500 EV charging stations at apartment, condominium complexes and workplaces. The network will significantly expand access to EV charging stations throughout Northern and Central California over the next three years. By supporting adoption of EVs, the program extends efforts to reduce greenhouse gas emissions across the state.
Electric Vehicle Ride and Drive
PG&E is hosting its 4th Annual Electric Vehicle Test Drive event at the Auto Show on Monday and Tuesday November 20th & 21st from 10am to 3pm. A variety of the latest EVs is planned to be available, including Audi, BMW, Chevrolet, Ford, Mercedes Benz, Nissan, smart, and Volkswagen, (subject to change).
Participants can receive a FREE TICKET to the Auto Show after completing the brief Best.Drive.EVer! campaign surveys before and after the test drive collecting people's perceptions of EVs and what transportation options are currently being used. The surveying will take place at the test drive registration area.

Participants will also receive a FREE copy of Electric Car Insider magazine's EV Buyers Guide, a comprehensive guide to Plug-In Electric Vehicles. The 64-page full-color magazine contains independent reviews and detailed specifications of every production electric vehicle on the market. The EV Buyers Guide is the most comprehensive and detailed compilation of electric vehicle reviews available.

Don't miss bringing the kids by for a FREE PG&E hard hat, while supplies last.
Official Sponsors
Take BART
to the
Auto Show!