Section West Aston Martin Owners Club Exhibit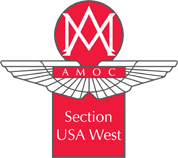 Established in England in 1935, the Aston Martin Owners Club continues to thrive and attracts new Members from around the world, with over 5,000 Members in 40 countries. USA Section West was established in the 1950's and has about 300 Members on the West Coast.
A Club for enthusiasts and owners of Aston Martin cars, the Aston Martin Owners Club caters for the owners of the earliest pre-war models, through the David Brown era, to the very latest models produced today.
The Aston Martin Owners Club looks forward to sharing our enthusiasm for the marque with the San Francisco International Auto Show visitors. The list of cars expected to be displayed this year include:
1952 Lagonda DH Tickford
1954 DB2/4 Racer
1959 DB2/4 MkIII Cabrio
1957 DB2/4 MkII FH Coupe
1964 DB5 Saloon
1969 DBS Saloon
1980 V8 Vantage
1977 V8 Saloon
2005 Vanquish S
2006 DB9 Coupe
2008 V8 Vantage Roadster
2014 V8 Vantage Centennial
Official Sponsors
Take BART
to the
Auto Show!