Academy of Art University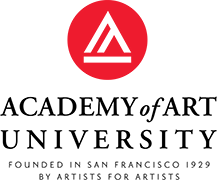 Academy of Art University is the largest accredited private art and design university in the nation. Founded in 1929, the school offers accredited AA, BA, BFA, B.Arch*, MA, MFA, and M.Arch degree programs in 26 areas of study, as well as continuing art education, pre-college art experience programs, and teacher grants. Classes are available in Acting, Advertising, Animation & Visual Effects, Architecture, Art Education, Art History, Art Teaching Credential, Fashion, Fashion Journalism, Fashion Styling, Fine Art, Game Design, Graphic Design, Illustration, Industrial Design (Transportation & Product Design), Interior Architecture & Design, Jewelry & Metal Arts, Landscape Architecture, Motion Pictures & Television, Multimedia Communications, Music Production & Sound Design for Visual Media, Photography, Studio Production for Advertising & Design, Visual Development, Web Design & New Media, and Writing for Film, Television & Digital Media. Students can also enroll in flexible online degree programs in most areas of study.
Lovers of classic cars will have the opportunity to get close-up views of some of the most revered automobiles ever built when the 62nd Annual San Francisco International Auto Show opens Nov. 28.
A fantastic collection of cars from the San Francisco Academy of Art University Auto Museum will be showcased at the Moscone Convention Center for the entire run of the auto show. This year's theme is "Town and Country" featuring cars often found in metropolitan areas complimented by a selection of cars and vintage trailers on display that you might see in the countryside.
Additionally, there will be a special display honoring the 30th anniversary of the Mazda Miata, which was designed by the Executive Director of the Academy's School of Industrial Design – Tom Matano.
"We are proud to be able to exhibit vehicles that represent the elegance, style, craftsmanship, technology and innovative spirit of automotive designers of the past and the future," said show Director Kevin Diamond. "We appreciate the long term support of our show provided by Elisa Stephens, President of the university."
Academy of Art University was founded in 1929 by Richard S. Stephens, a painter and creative director of Sunset Magazine, and his wife, Clara, in a rented loft on Kearny Street. His son, the late Richard A. Stephens, who began the car collection, served as president until 1992, when he was named chair emeritus. He was succeeded as president by his daughter.
More than 9,000 undergraduate students are enrolled in the university's 23 degree or certificate programs. The Academy's School of Industrial Design's department head Tom Matano uses the collection located on the Van Ness Avenue campus to inspire his students.
The collection is open to the public on Tuesday's from 11-1 and Thursday's from 2-4 each week: https://academyautomuseum.org/
Graduates of the industrial design program have been hired by an impressive list of companies, including BMW Design Works, GM, Mazda, Toyota, Fox Racing, Black & Decker, Camelback, Hasbro, Mattel, Tigo, LG Electronics, Microsoft, Nike, VIDIA, Palm Inc., Samsung, Tony, Sketchers, North Face and Timbuk 2 Designs.
The university also offers majors and continuing education programs in acting, advertising, animation and visual effects, architecture, art education, art history, fashion, fine art, game design, graphic design, illustration, interior architecture and design, jewelry and metal arts, landscape architecture, motion pictures and television, multimedia communications, music production and sound design for visual media, photography, visual development, and web design.
Students can also enroll in flexible online degree programs in most majors.
Academy of Art University is an accredited member of WSCUC, NASAD, CIDA (BFA-IAD, MFA-IAD), NAAB (B. ARCH, M ARCH) and CTC (California Teacher Credential).
For more information, visit Academyart.edu or call 800.5442787
Expected cars:
1940 Buick Series 80 Limited Convertible Sedan
1931 Cadillac Series 355 Roadster
1933 Chrysler Imperial Dual Cowl Phaeton
1942 Chrysler Town & Country Barrell back
1948 Chrysler Town & Country Convertible
1963 Chevrolet Corvette Sting Ray Coupe
1931 Cord L29 Cabriolet
1937 Delage D8 120 Cabriolet
1930 Duesenberg J Convertible Sedan
1937 Ford Deluxe Station Wagon
1937 Lagonda LG45 Sport Tourer
1934 Lincoln KA Convertible
1961 Lincoln Continental Sedan
1935 Mercedes-Benz 500K Cabriolet A
1966 Oldsmobile Toronado
1930 Packard Model 740 Sport Phaeton
1933 Packard Model 1006 Dietrich Coupe
1966 Porsche 911
1938 Talbot-Lago T150-C Special Coupe
1930 Willys-Knight Great Six Plaid Side Roadster
1973 Riva 21' Olympic Speed Boat
1962 Holiday Rambler 15' Travel Trailer
1935 Teardrop Travel Trailer