PG&E: Your Partner for Electric Car Ownership

Whether you already drive an electric vehicle (EV) or you're thinking of acquiring one, you can learn more about EVs and charging at the PG&E exhibit at the San Francisco Chronical 59th Annual International Auto Show November 19-27 at Moscone Center.
Save money and go green by driving an electric vehicle. Learn about how you can:
Charge your EV on PG&E's special EV rate plans for the equivalent of $1 per gallon on one of the nation's greenest power supplies, with over 50% coming from carbon-free sources
Receive up to $10,000 on EV purchases with Federal and State incentives.

PG&E's 4,200 square foot information and vehicle exhibit will have interactive kiosks addressing special utility EV charging rates, the EVs on the market, purchase rebates and more. PG&E will be exhibiting examples of PG&E's electric and hybrid fleet cars and heavy-duty service trucks, including the brand new Chevy Bolt and the utility industry's first plug-in electric hybrid "bucket" truck.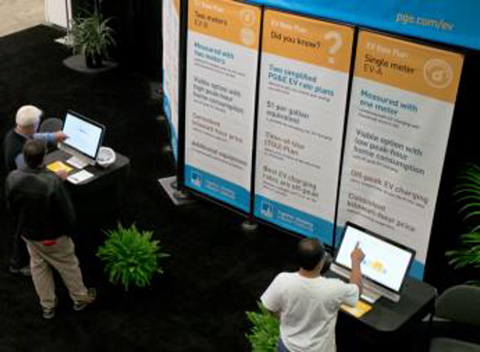 Representatives from PG&E and the Center for Sustainable Energy (CSE) will be on hand to answer your questions about EV ownership, including how to qualify for Federal and state rebates towards the purchase of an EV.

The utility industry's first plug-in electric hybrid class 5 bucket truck will be on display. This truck is the product of PG&E's partnership with Dixon, California-based Efficient Drivetrains Incorporated (EDI).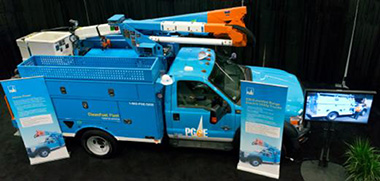 The truck features 120kW of exportable power capacity, which can be used to charge EV's and is enough to keep the lights on in up to 100 homes during planned or unplanned outages. It can travel up to 50 miles all-electric driving range before switching to extended-range gas-hybrid mode.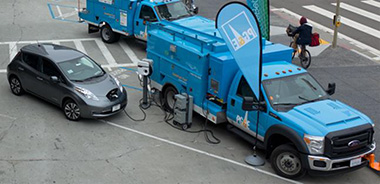 "We have been aggressively 'electrifying' our fleet of utility vehicles based on their lower overall cost of ownership and reduced carbon emissions. Not only do EVs offer lower fuel costs, but the cost of maintenance is also lower due to the simplicity of their design," said Dave Meisel, senior director of Transportation and Aviation Services for PG&E. "We want to share our experience with our customers, so that they can enjoy the benefits of EV ownership."
Electric Vehicle Ride and Drive:
PG&E is hosting its 3rd Annual EV Test Drive event at the Auto Show on Monday and Tuesday November 21st & 22nd from 10am to 3pm. The latest electric vehicles (EVs) from a variety of manufacturers will be available, including Audi, BMW, Chevrolet, Ford, Nissan, and Volkswagen, (subject to change).
Participants can receive a FREE TICKET to the Auto Show after completing the brief Best.Ride.EVer! campaign survey before and after the electric car test drive. The pre- and post- test drive surveys ask 5-6 questions about perceptions of electric cars and what transportation options currently being used. The Best.Ride.EVer! surveying will take place at the electric car test drive registration area.

Participants will also receive a FREE copy of Electric Car Insider magazine's EV Buyers Guide, a comprehensive guide to Plug-In Electric Vehicles. The 64-page full-color magazine contains independent reviews and detailed specifications of every production electric vehicle on the market. The EV Buyers Guide is the most comprehensive and detailed compilation of electric vehicle reviews available.
Don't miss bringing the kids by for a FREE PG&E hard hat, while supplies last.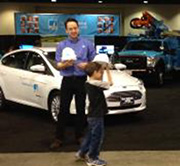 Official Sponsors
Take BART
to the
Auto Show!