Section West Aston Martin Owners Club Exhibit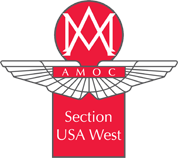 For over 60 years the the Aston Martin Owners Club has served as a US/Canadian affiliate of the The Aston Martin Owners Club in the UK. The AMOC is a club for enthusiasts and owners of Aston Martin cars from the earliest pre-war models, through the David Brown era, to the very latest models produced today. We welcome all Aston Martin owners and enthusiasts in the Western half of North America to join us.
AMOC Section West is part of the global Aston Martin organization with more than 6000 members in more than 40 countries.
Members of the Aston Martin Owners Club of North America are some of the nicest, most welcoming and well-informed people that you will meet. They enjoy lively socializing, driving, showing, racing and discussing their own cars as well as the many other Aston Martin models that have been created in the firm's 100+ year history.
Membership in the Aston Martin Owners Club affords access to exclusive events, club publications, knowledgeable owner resources and technical information and special promotions for AMOC members.
For more information visit our website http://www.amoc-sw.org/
The following is the list of cars expected to be displayed:
1957 DB2/4 Mk II FHC
1959 DB2/4 Mk III DHC
1964 DB5 Saloon
1964 DB5 Saloon
1966 Short Chassis Volante
1977 V8 Saloon
1997 DB7 Volante I6
2006 DB9 Coupe
2008 V8 Vantage Roadster
2010 DBS Volante
2012 Rapide
Official Sponsors
Take BART
to the
Auto Show!